Best Foosball Balls Review 2022
Whether you need to replace some lost or damaged balls, or just want to upgrade your playing to a top of the line foosball ball, there are a few different options available for you on the market right now.
Depending on the foosball table that you have at home, the ball that came with it might not be of the highest quality. And plenty of people underestimate just how game play is affected from ball quality.
Let us help you find the perfect replacement options so that you can improve your game play and have more fun challenging your friends on your home table. Below we'll tell you about the different types of foosballs on the market and give you some of our recommendations for better game play.
Quick Answer: What are the best foosball replacement balls?
Types of Foosball Balls
If you ask the average foos enthusiasts, then you'll like hear that white ping-pong style balls are the type that you get to choose from. But, that is not exactly true.
In fact, there are a variety of different types of foosballs on the market right now, and each one offers a different playing experience. Plus, quality varies based on type. For the most part, it's safe to assume that the balls you got with your table are just standard quality and not the best that money can buy. So, why not upgrade and improve your game?
There are really four main types of balls for foosball tables. They are:
cork
textured
smooth
traditional soccer balls
Cork Foosball Balls
If you're located in the USA, then you've probably never played a table using this type of ball. This style is what you find on most European tables. When you play with one of these, it makes a muffled sound as it moves around the table instead of the thud you may be used to hearing.
European game play involves a lot of pin shots, and the cork gives you better control for those shots. Players note that cork foosballs have a tacky and sticky feel when used in a game.
Textured Foosball Balls
If you're buying a high quality table in the USA, like a Tornado table, then this is the type of ball that you're going to be playing the game with. The feel of playing with this type is a combination of the cork and the smooth types.
You can do pin shots, but there is noticeably less of a sticky or tacky feel. This type of ball travels at a higher speed and often bounces off the men and sides of the table. It is definitely a louder ball when in play than the cork ball.
Smooth Foosball Balls
If you buy a really cheap table, then you might end up with this type of ball. Honestly, it's best to avoid or replace this type because you get terrible control due to a lack of that tacky feel.
The exterior is so slick that pin shots are practically impossible to accomplish during game play. And they are incredibly loud during the game.  The only real benefit of this type is that they have a predictable roll due to the smooth exterior, which you don't get from the textured ball type.
Traditional Soccer Balls
This type is a relic of the tables from the 1970's, but you do often seem them when you buy a cheap table. I know I've seen them included with some of the cheap models that are designed for teens. They're basically on the toy tables and not the ones for serious game playing.
These balls have a slick outer coating that makes pin shots and ball control a real challenge. They make a lot of noise during game play and often continue rolling when other types of foosballs would have stopped.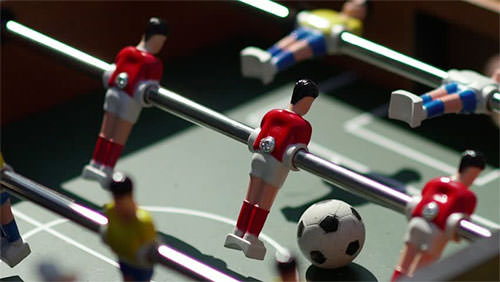 Where To Buy Foosball Balls?
It's a good idea to shop for replacements in a pack of four or more. The reason that we advise this is because it's easy to lose the balls over time and having backups means that you won't ever have to miss a game.
Locally, I've had a hard time finding any stores or shops that carry replacement options. You might be able to find them in a gaming store, or the store might be able to special order them for you.
But the best option that I've seen is to just order them online from Amazon or another specialty online retailer.
If you're concerned about how much they cost, then I can tell you to expect around $2 per ball to $5 per ball, depending on what type and brand you're looking at buying for your table. Some of our favorite options from Amazon are below.
Official Foosballs Tornado, Dynamo, Shelti
This four pack features two yellow foosballs and two red foosballs. These are official foosball balls for Tornado, Dynamo, & Shelti Tables. With this pack, you know that you are getting the highest quality foosball replacement balls for the money.
Good control and grip, there's really nothing to complain about with these.
Warrior Pro Game Foosballs
If you're looking for another great option made by one of the top brands in the industry here in the USA, then consider these professional foosball balls from the Warrior Table Soccer brand.
These also come in a pack of four, which means that you have some extras to keep on hand in the event that you lose one or it gets damaged.
You can use these for game play on pretty much any table and you can buy them in the blue pictured above or another color. (The tour standard color is orange.) The four pack of balls are all the same color.
One of the nice things about this set of replacement foosball balls is that they are the exact ones used on the Warrior Professional Table Soccer Tour, that's why you see the Warrior logo on them.
Made from a special urethane compound, you get good control and gripping action when you play with these. We highly recommend them for the serious foosball player.
Game Room Guys Set of 12 Official Natural Cork Foosballs for Tornado, Dynamo or Shelti Tables
If you just a set of basic cork foosballs that you can use as replacements with your table, then check out these from Game Room Guys.
They are made of high quality all natural cork and they offer improved game play over most standard balls. Plus, you get 12 of them in this pack at a cheap price.
Though these were made with the Tornado, Dynamo, and Shelti tables in mind, the truth is that you can use these with any brand of foosball table. So, if you have another brand of table at home, you can still buy these as replacements.
Franklin Sports Textured Tournament Foosballs
If you want another good textured option, then look no further than these tournament foosball balls from Franklin Sports.
You get a pack of six foosballs (four white and two orange). And here's a warning - one of the orange ones that three lines printed on it that you can't remove. It doesn't really seem to affect game play, but it does look unsightly.
Despite the one ball with printed text, these foosballs have a good weight to them and awesome control during game play.