What To Put Behind A Dartboard To Protect Your Wall?
Do you have any worries when you play darts at home? If you are good, you might be alright without any wall protection. However, bad aim happens and it could destroy your furniture or possession. Tons of funny stories when it comes to this topic.
But anyway we are going to focus on your wall today. In general, creating a darts-friendly (and wall-protecting) environment will be a great solution to your worries. Having a proper dartboard environment is usually a must for any serious dart player.
There are numerous helpful dartboards protections that you can buy in specialized darts shops. But if you want to save some money, there are some quick and easy solutions that you can DIY at home. In this article, we will talk about some purchasable and some DIYable options.
Ready To Use Solutions To Protect The Wall
Dartboard Surround
This is a good type of protection like a dartboard cabinet, but not quite the same. Dartboard surround is basically a perfect fit foam border that sits around your dart, it's a convenient type of protection for your walls when the arrow goes in the wrong direction or when it goes astray. It is very precisely made of foam and cut to capture the desired space around the dartboard.
As you can see from the images, a dartboard surround is usually a few inches wider than the dartboard itself, which means the possibility of potentially damaged walls still exists. With the restrictions, your wall will not be one hundred percent safe. (In fact, like vaccines, it's probably hard to achieve one hundred percent protection). Regardless of the restrictions, this is a completely ready-to-roll type of protection, because no matter how bad a darts player you are, you will not wave the whole dartboard too often, so the actual damage is minimal.
Here we picked three dartboard surrounds that are receiving pretty good reviews for your reference, but we won't delve into the detail features in this article just yet. It'll be another article in the near future.
Dartboard Cabinet
Definitely one of the best ways to protect your walls when you have fun playing a fantastic and interesting game like darts. It will protect your dartboard as well as your walls. The dartboard will visually look aesthetically pleasant as the cabinet will be great protection for the surrounding space around the dartboard, and also serve as a great decoration. It should be noted that it still will not provide 100 percent protection, because you never know where the arrow can go if you are inaccurate as a beginner in sports such as darts. Of course, the bigger the cabinet, the bigger the space that protects by this cabinet.
There is a real chance that despite using a dartboard cabinet, you will damage your walls above and below the dartboard. If you know you are not the most precise and you are just starting to take on this sport, try combine the dartboard cabinet with other types of protection against potential damage. In addition to protection during and outside the game, the cabinet can provide some storage area where you can keep the darts and chalks organized, and the cabinet can also be used as a scoreboard when playing a game of darts.
DIYable Solutions To Protect The Wall Behind Dartboard
Ropes
Do you have an old rope around? This is often a great way to reuse old materials. If you can get the rope for free, the whole project will cost you zero to only a few dollars. Here's how you can utilize ropes for wall protection. All you need is construction glue and ropes.
Unroll the rope along the bottom of your dartboard, glue it along the edge, and keep wrapping it around the dartboard to make the rope circle a huge enough area around the board. You won't want it to be too small. I suggest unraveling the rope and then gluing it to one side with suitable glue to hold the sisal fibers. There will be many options regarding the thickness of the ropes. I personally think thinner ropes look more appealing. Keep winding and gluing until the size of this rope-plate thing is a few inches larger than your dartboard. When the end approaches, tuck and glue it behind so it is not visible from the front.
Wine Barrel
If you can get your hands on one of these - you're an absolute champion. Why? Darts originated from soldiers using the tops of barrels to throw daggers at, in order to improve their aim and for entertainment purpose. It's quite beautiful when you can combine a modern dartboard with an old story by simply hanging the top of a wine barrel.
Old Door or Wood Panel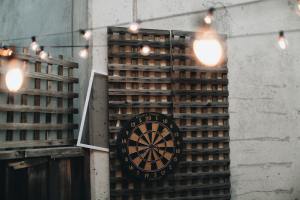 If you just so happen to have a retired door, it's a good idea to repurpose it for wall protection behind your dartboard. We don't recommend you hang your dartboard behind a door that's in use for safety reasons. Also, you'll have a very unhappy wife if the door is all dent and dint.
This method works well especially when you want to bring the darts outdoors, lean it against a tree or something like that. Or you can simply secure it at an indoor spot if you don't plan to move it.
Floor Foam Tiles
Yes, you heard it right. Piece together a few foam tiles and put it behind the dartboard. Problem solved! Good news is that nowadays these types of tiles come in various texture finish and colors, you'll most certainly find one that looks harmoniously with your interior. It can also be used as dart floor mat, so your floor won't be damaged by bounce darts.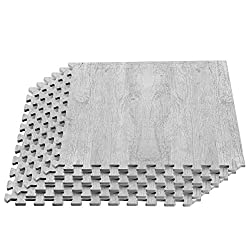 Either you want to cut out space around your dartboard, or want to put an entire large piece of tiles behind it, both work. But how do you anchor the foam tiles to the wall? So far the best way I found is by using frame hanging strips - no holes or hooks required.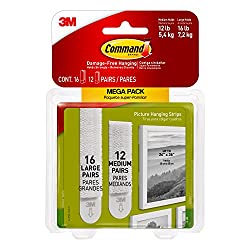 Quick And Cheap Options
You can use a few more improvised ways to protect the surrounding area when playing darts if you don't have the budget for it or you can't justify the cost. Maybe you're a pro and no extra protection is required, but you have guests coming and we can appreciate the fact that not everyone is good at aiming. So here are some quick and cheap fix for you.
Cardbaord
This is quite easy to access and requires not much to put in place. Simply fold it up to desired thickness and tape it, put it behind the dartboard. Maybe put another cardboard on the floor for extra protection.
Towels
It's gotta be thick towels. This is handy if you have youngsters around and need to reduce the height of the dartboard. Normally when this happens you probably won't bother drilling another hole and put another screw just to cater to this situation. We would recommend leaning the dartboard against the wall with thick towels behind. Of course, towels drape, put a few stitches in the corner of the towels to create a loop, or use towels that come with a strap in the corners and hang them on removable hooks.
Other
Human - Make your friend hold the dartboard. NO. I'm just kidding. Don't do this. We are not responsible for any injuries or financial losses from the lack of a sense of humor or lack of common sense.
We hope the ideas this article are helpful for protecting the wall behind your dartboard. Do comment below and share with everyone how you protect your wall.
Featured image credit: Clem Onojeghuo