Best Foosball Tables For The Money Right Now (2016)
If you've already checked out our buying guide, then let us help you narrow down your choices to only the best foosball tables on the market right now. We've spent several days comparing all the top brands and models to determine which ones offer the most value for the money - no matter how small your budget. Rest assured that if you purchase any of the models below, you're getting one of the top rated foosball tables for the price.
Click Here - Editor Pick - Best Budget-Friendly Foosball Table
Top 10 Best Foosball Tables 2016 - 2017
See our top picks in this chart where you can easily compare based on our rating, construction, size, and goalie configuration.
Mobile users - swipe left on the table to view all the columns
This list is updated regularly as we find new tables that meet our standards.
Any of the tables that you see listed above make a great purchase, but some are definitely better than others. If you are shopping on a budget, we want to make it easier for you to know which of the models above is the best one in your price range. Keep reading for our tips on buying based on price.
Best Foosball Table Under $300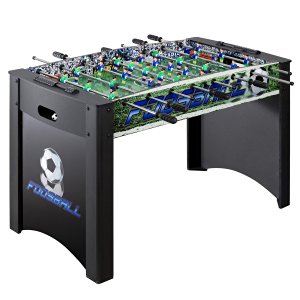 Whether you are on a really tight budget or just want a cheap foosball table for kids, then look no further than the Hathaway Playoff Soccer Table. This is the cheapest model on the market right now that we can recommend.
As you can see in the image, the design of this one appeals to kids and teens. Since it is not full-size, it works well for them since they can actually reach it for game play.
One important thing to know about this one is that the construction is from MDF and cheap particleboard, which will not last you forever. You should be able to get a few good years out of it, and at this price it is still a great deal and worthwhile purchase for your kids. Plus, compared to other particle board models, this one is more durable and sturdy due to the MDF.
It features chrome plated tubular steel rods, automatic end ball return, durable players, a sliding score system and a three-man goalie configuration.
Overall, this is an awesome choice for kids and teens, as well as adults who don't mind playing on a foosball table that is not full size. It works well in small apartments and condos. Click here for a price check on Amazon.
Best Foosball Table Under $500 - $800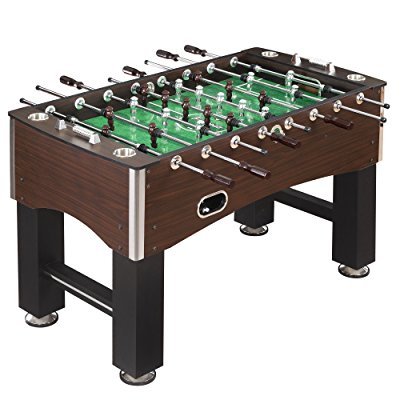 If you want the most bang for your buck and the most that you can spend is somewhere in the $400 - $600 range, then our top pick for you is the Hathaway Primo Soccer Table.
This one has a very classy look, which means it looks great in the home game room. It has the classic butcher block design, which is very popular right now.
Top features include a single-man goalie configuration, levelers on each leg, counter balanced players, solid steel rods, and MDF construction with a durable exterior melamine that gives the table a luxury feel with its espresso finish.
Overall, this one is a very good buy at an affordable price. Sure, it will take most of that $500 - $800 budget, but I think you'll find that it is money well spent based on the hours of fun game play that you will get to enjoy. Read our full review here.  Click here to price check it at Amazon.
Best Foosball Table Under $1000 - $1200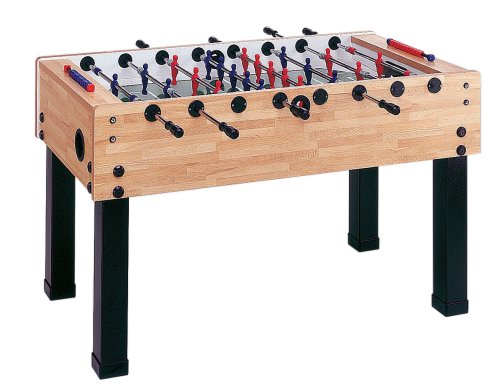 If you have a little more room in your budget, then you can get one of what we consider to be the best foosball tables on the market. In fact, there are a lot more great models out there when you can afford this much. But our favorite one at in this price range is the Garlando G-500 Soccer Table.
As you can see in the image, it has a very sleek design and it looks great in home rec rooms. The butcher block-style cabinet is constructed with heavy duty MDF, features telescopic solid steel rods, and heavy duty legs. In fact, our only complaint with this one is that it doesn't have levelers for the legs - but if your floor is level then you should be okay without them.
Overall, this is one is very sturdy and high quality, which makes it a great addition to your home, garage, office or gym. Click here to price check it at Amazon.
Or check out our favorite alternative option, the Tornado Sport Foosball Table.
Best Family Foosball Table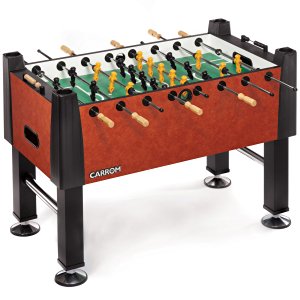 If you're looking for something that is fun for the whole family with an affordable price, then consider the Carrom 530.00 Signature Foosball Table. This one is very durable and can withstand several years of regular game play.
What makes this one so great for families is that is has the popular butcher block cabinet design, but retains that arcade-fun look that your kids and friends will love. Plus, Carrom is one of the top foosball tables brands on the market right now, so you know that you're getting something that is high quality.
Other great features on this one include levelers for the legs, hollow steel rods for quick game play, wood-bead scoring system, high quality components, and you can choose between one-man or three-man goalie setup. Plus, this foosball table is made in the USA, if that is important to you.
Overall, this one is definitely a great investment when it comes to family fun time. Just think of all the hours your family will spend enjoying this table over the next several years. Click here for price check on Amazon.
Best Folding Foosball Table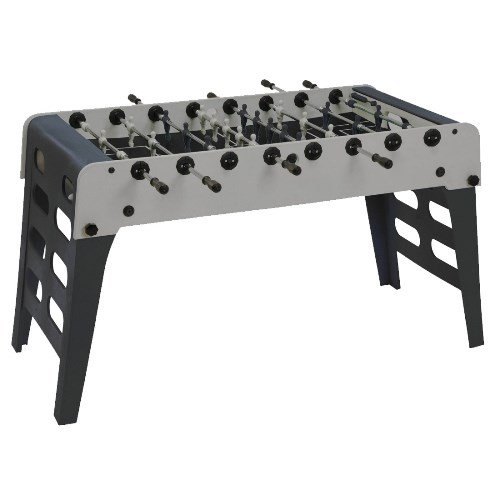 If you don't have a lot of space or don't expect to get a lot of use out of your purchase, then a good folding foosball table is the way to go. While there are not a lot of folding models on the market right now, there is one that sticks out above the rest and that is the Garlando Open Air Folding Foosball Table. You can get this one either in an indoor version or an outdoor version.
As you can tell from the photo, the design of this one isn't the most attractive option available to you, but it is the highest quality folding option available for purchase. Plus, Garlando is one of the top foosball table brands, which means that this is a very high quality choice right here.
There's a lot to like about this one. It features molded plastic legs that are reinforced with fiberglass for sturdiness, rust-resistant telescopic steel rods, unbreakable players and steel roller bearings for quicker and easier game play.
At the end of the day, I think you're not going to find a better folding option than this one. It is built to last and will give your family and friends plenty of good years of play. Click here for price check at Amazon.