Professional Foosball Tables 2021- Which Table Meets The Bar?
Best Professional Foosball Tables On The Market 2021-2022
Why Professional Foosball Table?
If you plan on doing any serious foosball competition, the best advantage you can give yourself is to purchase and train on a professional foosball table. Rarely has anyone ever seen a foosball table and said to themselves "not for me". Foosball is an extremely fun activity for all ages and can be challenging and exciting as well.
Always consider when you start your journey on buying your competitive table that it is recognised officially by the ITSF or the USTSO. We will only look at foosball tables that have the official stamps of approval from either of these great organisations. We want to make sure that we discuss the best available options and will cover ones with different budgets and material builds.
Prepare your budget.
One of the first topics of discussion is what type of budget are we looking at? Foosball tables can go from a couple of hundred dollars to a couple thousand. Since we are looking for high quality and durable tables that will not be shaking around when you use them, expect a higher price tag for these models.
Tornado Tournament 3000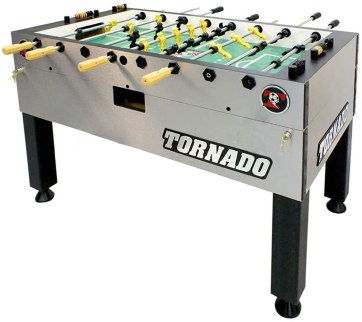 This is the top-of-the-line foosball table. Made in the United States, this is built to last with you for years to come. It is the official game table of the Tornado National Tour, so when you purchase one of these, you can already start practicing to compete. It is also the table of the USTSO. It features a two-piece cabinet design for added durability. They also feature the patented Tornado counterbalanced players for a smooth game and modular one or three goalie configurations. The rods themselves are properly oiled and smooth so they won't stick and cause any form of breakage.
The exterior construction is stainless steel laminate meaning it can take a better beating than most other foosball tables. It also has a playing field that is ¾ of an inch thick, making it one of the most durable on the market. They also had safety in mind and their rods are telescopic, meaning that you cannot accidentally hit someone standing across from you when using these rods.
They do not stop there and many discussions state that you can get everything assembled within 30 minutes, as most of the construction and assembly is done off-site. New tables come with a 1-year warranty and they are made within the United States.
When it comes to pricing, they are considered one of the most expensive, but with all the high-quality features that it comes with and it being one of the most stable foosball tables out there, it is well worth the investment for a big fan of foosball or a professional player. See more detailed review for Tornado T-3000 here.
Warrior Table Pro Foosball Table
Here we look at a fantastic table that is on the opposite end of the pricing spectrum and under the $1,000 range for professional and high-quality foosball tables. The Warrior brand is a high-quality professional standard in this foosball table arena. It weighs in at over 200 pounds so it won't be moving around anytime soon. The men are made with hardened ABS plastic and are of course properly counterbalanced.
It is also one of the few tables that provides a hose-free ball return. These hoses can sometimes get stuck with debris and dirt, which can end up slowing your practice routine, so it is nice they thought of a system that would avoid that completely. The balls themselves are made with a specialised grinding process with a urethane compound that provides both a great grip and improved speed, allowing you to be in those high-speed scenarios.
This is both a USTSF and ISTF certified table so you can feel confident that you will be practising like the pros. Read more detailed review for Warrior Pro here.
Tornado Standard Foosball Table.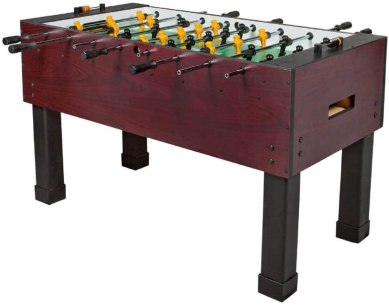 Here we head back to the top-quality production value of a Tornado Table. This one is specifically built for home use and comes in at a significantly reduced price. It still comes with the same hand-crafted quality that these tables are known for. They also come with all those extra features that you might not appreciate until you start to use them. They include heavy gauged rods, counterbalanced men, and commercial grade levellers. They also include those great safety features with their telescopic rods.
These models all come with that Victorian Cherry laminate that is thicker than their competitors so that you can still aesthetically enjoy it for years to come. This offers it in a nice wooden finish that can fit anywhere in your home where you plan to practice.
It comes with a roll pin punch and some of our specialised silicone in case you need to handle any form of minor repairs, which will be few and far between since the playfield is 3/4th of an inch thick made of laminate. If properly maintained this could last a few generations. For more detailed review on Tornado Sport Foosball Table you can find it here. For top Tornado Foosball Tables review and comparison click here.
Garlando G-5000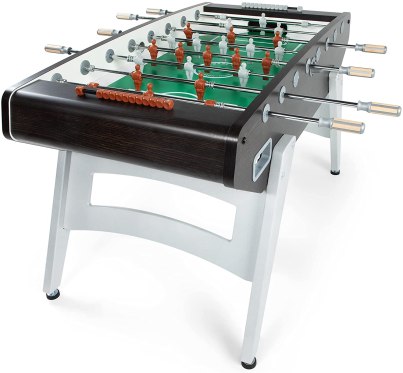 The Garlando brand always has a way of just emanating style into all of its products. These are some of the coolest and prettiest looking tables out there. Underneath their looks, they are packed with high-quality features throughout the table.
The first feature you will notice is their wood inlaid plastic handles to offer maximum comfort for prolonged playtime. They also have the legs at a slant and the legs are adjustable with leg levellers that can help improve stability when necessary. The playfield itself is non-reflective sanded glass so it's really a true testament to high-quality construction.
The telescopic rods themselves are made of steel that is plated with chromium to prevent rusting while having increased durability. They also have roller bearings to reduce the wear on your wrists, improving the safety features. The goals themselves even have some lining to reduce noise and the possibility of the ball jumping out of the table.
They start to creep up in price, but for the design, quality and beautiful look, they are well worth it. You can find them here.
Garlando Weatherproof Foosball table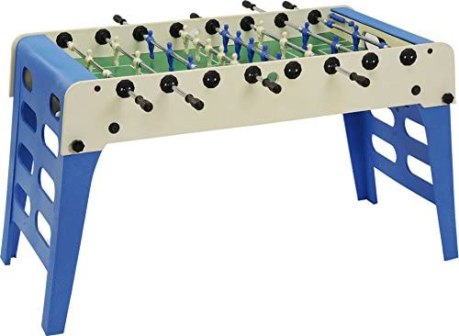 As one of the premier international brands and ISTF standards when it comes to foosball tables, we felt we wanted to share one that is a little different. This Garlando model is built for the wear and tear of nature and allows you to still practice professionally, but basically anywhere. The construction is a mix of fibreglass and plastic to provide a lifetime of quality and durability.
As seen in the G-5000 model, Garlando themselves always build out foosball tables that have a distinct look and feel, and this one is no different. It comes in a beautiful blue and grey colour combination that still has all the quality of a Garlando foosball table. It has telescopic rods for safety and even foldable legs for easy storage and use. This also improves its portability so you can take it with you on the road when needed.
The playing field itself is built for adverse weather and transportation, so don't fear playing in the rain as the field is made of plastic laminate and a special type of ink built to be weatherproof. This professional foosball table is also featured in our best outdoor tables article and best foosball tables for your money.
Of course, with all this high quality and features, the pricing brings it to nearly $1,500 in some cases but keep in mind that you are literally getting a high quality, highly durable foosball table specifically to be used outdoors. You can find it and similar models here.
Bottom Line
Always remember to have fun.
There are a wide variety of foosball tables out there. Always consider this an investment, especially if you are considering looking for professional tournament quality. You are paying for high-quality materials that were designed for consistent usage and for tournament-style play. This means they are built to handle endless hours of games and fun and thus by default come with better materials.
Whether you are a professional, preparing for your next tournament or someone who wants to have something fun for when friends are over, the above-mentioned foosball tables are a great starting point for your journey into investing in a proper foosball table.