Best Outdoor Foosball Tables 2021-2022
Looking For Best Outdoor Foosball Tables To Invest In?
If you want to add a bit of fun and excitement to your garden or patio, you should consider investing in an outdoor foosball table. These tables are compact, well-designed, and bring hours of entertainment for friends and family members of all ages. We are spoiled for choice when it comes to foosball tables today, so how do you decide on one that fits your requirements and budget?
What Should I Look at When Choosing a Foos Table?
When it comes to choosing the foosball table that will entertain you and your guests for years to come, there are a few things that you can keep in mind to make your choice easier. They include:
A decent outdoor foosball table doesn't come cheap because of the superior materials that need to be used to ensure that the table is weather-resistant. Therefore, decide on a price that you feel is reasonable and start your search from there.
Outdoor foosball tables can be bulky and oversized. If you have a smaller outdoor space, you must keep the size of your foosball table in mind. However, if space is no issue, then you have a large selection of incredible foosball tables to choose from.
Outdoor foosball tables need to be able to withstand a lot of bad weather, so you need to look at foosball tables that have been made to last. If you choose a table made of aluminum, for example, you know it has been made to take any weather that comes it's way.
You want your foosball game to be as close to the real deal as possible, so look at the designs of the foosball tables and choose one that makes you feel like you are looking down on an actual football field with real players giving it their all.
If you plan to spend a lot of time playing foosball, you want a suitable table for your needs. A table needs to provide you with an ergonomic grip and design that won't make your joints hurt.
You want all the goods included if you are coughing up some serious money on a good foosball table. Therefore it is worth checking whether the foosball tables you have in mind come with everything you need to kick off that first game.
Top 7 Outdoor Foosball Tables - Our Favorites
IMAGE
DETAILS
Garlando G-500 Weatherproof Outdoor Foosball Table
Buy at: Amazon
Kettler Weatherproof Indoor/Outdoor Foosball/Soccer Game Table
Buy at: Amazon
Garlando Open Air Foosball Table
Buy at: Amazon
Rene Pierre Outdoor Foosball Table with 1-Man Goalie - Bora Bora
Buy at: Amazon
Rene Pierre Outdoor Foosball Table - Tahiti
Buy at: Amazon
Garlando G2000 Weatherproof Football Table
Buy at: Amazon
Kettler Montecristo Outdoor Foosball Table
Buy at: Amazon
5 Outdoor Foosball Tables That Leave the Others in the Dust
If you are looking for a foosball table that will blow your socks off, these five outdoor foosball tables are what you are looking for. The only challenge they will bring is choosing between the five of them.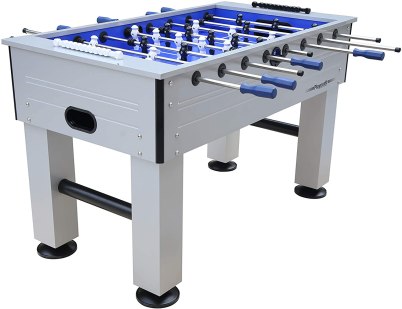 This table is, as the name suggests, a perfectly crafted table for play. Players will love this sturdy and weatherproof table that comes with four balls and a cover for extreme weather. The table is nearly indestructible because of its aluminium body. Here are a few factors that make this table incredible:
A complete aluminium body, including the legs, makes it a table that will be able to withstand any weather.
The table features quick assembly, and you are ready to play within minutes of getting your Playcraft Extera.
The table has been perfectly designed for players of all ages.
The table is quite affordable compared to some of its competitors.
So is there a downside to this great foosball table? Well, the aluminium body is a blessing and curse in some ways. Yes, it makes for a durable table that can take anything you throw its way, but it means that you have a hefty table that is challenging to move. However, people who enjoy this table say the weight is no issue because the aluminium design is incredible.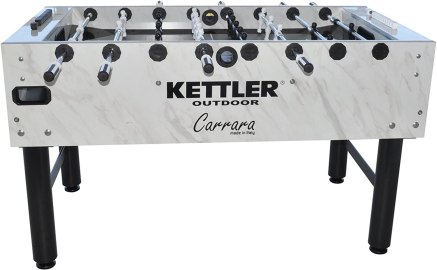 This Italian table is bold and beautiful. The table provides you with a comfortable grip and exciting play because of its 360-degree goalie rotation. In addition, the table has a durable and solid design that makes it perfect for intense tournaments.
Here are a few things that set the Kettler Carrara apart:
A gorgeous cabinet that has been well-laminated to withstand bad weather.
The table offers excellent playability with a solid and comfortable grip that makes it ideal for all players.
The table uses a melamine board that works exceptionally well; most would say much better than glass.
It is clear that the Kettler Carrara offers excellent benefits to players, but does it come with cons? The only real downside to this spectacular table is that assembly takes a little bit longer than most competitor tables. On average, players take about 90 minutes to assemble their Kettler Carrara Foosball table.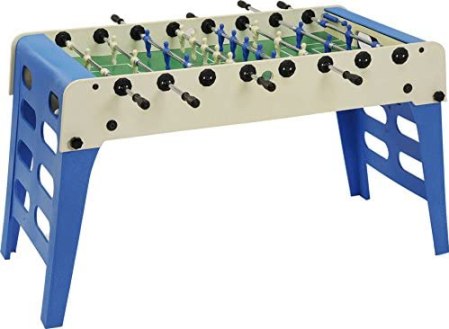 If you are looking for a heavy-duty table that will entertain your guests for hours, this is the table for you. Its fantastic design makes it durable against all kinds of weather, and it is incredibly waterproof, meaning that you can easily give it a hose down if it has collected dust. In addition, the table offers gameplay that is extremely smooth and fun. Let's see what else this remarkable table shows:
The table comes in two fabulous colours, blue and red.
The table comes with telescoping rods that have been coated with chromium so that they will last a lifetime.
The table has anti-rust hardware.
This model is also featured in our top rated foosball table review article.
So what is the downside to this excellent foosball table? The table is slightly more expensive than most of its competitor tables, but fans of the Garlando brand love the quality and durability that the table provides.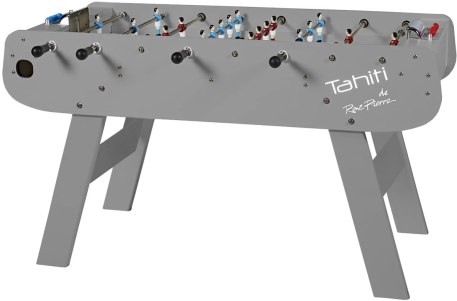 Looking for a foosball table that is packed with incredible details? Look no further because the René Pierre Tahiti foosball table features an amazingly detailed playing field with foosball players made of die-cast metal and handpainted for that unique look. In addition, the table comes with the Dazadi one-year money-back guarantee, so you know that they are confident that their product will rock your foosball world.
This phenomenal table has other impressive features, including:
The table has quick and easy assembly.
A clear and straightforward guide is included for even faster assembly.
The foosball table is made with eco-friendly materials that are weather-resistant and durable.
This top-notch foosball table spoils players with many attractive features, but does it come with any downsides? Unfortunately, this excellent foosball table comes at a high price. However, people who play foosball regularly will love the smooth gameplay and durability that the table offers.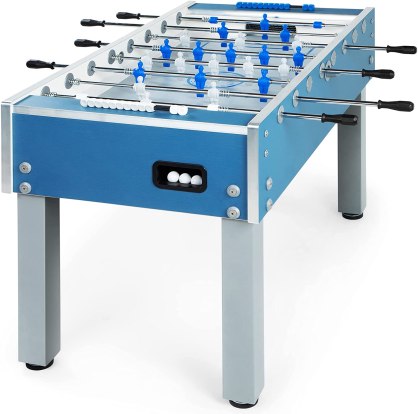 This unique foosball table has been well-designed with many attractive features. It is a very sturdy table that will endure a few punches as players get excited. In addition, people love the realistic look of the table and the fact that the table offers ball movement with ease.
Finally, the table uses an abacus style for score-keeping that is easy for people of all ages to use. Here are a few points that make the Garlando G-5000 stand out:
A very detailed and sophisticated design that perfectly resembles a football field.
It is made with durable materials and solid lamination, so it will provide you with years of foosball delight.
It is built in a way that doesn't put too much pressure on your wrists, meaning you can play for hours without ending up with stiff joints.
The table also comes with ten balls, so you don't need to stress about it if you lose one.
The table comes with telescopic rods, which is a great safety feature, especially if you have young players who are keen to try their hand at foosball.
Are there any downsides to the Garlando G-5000? Admittedly, the table comes at a higher price than most of its competitors, but avid foosball players feel it is worth every penny.
Conclusion
Being outside is a great way to relax and spend time with friends and family. Now you can step up your outside game with a foosball table that will have everyone twitching their wrists in anticipation to play.