Tips on How to Clean and Maintain Air Hockey Tables
How to Clean Your Air Hockey Table And Maintain It The Right Way?
It's all fun and games until you feel the need to hide your air hockey table under your grandma's tablecloth. Please don't do that.
Of course, you don't want to see old coffee mug rings on your precious air hockey table, but you also don't want to run the risk of damaging your precious gaming table with harsh scrubbing. Therefore, knowing how to clean air hockey tables can be very beneficial, not just for a smoother and more enjoyable gaming experience but also for bragging rights on your gorgeously sparkly air hockey table.
How to Correctly Clean Your Air Hockey Table: step-by-step
If you have ever experienced an awkward pause in your air hockey game where your puck just refused to move, you will know how important maintaining your air hockey table is. If your table has become pretty slow, it might be time to roll up your hockey jersey's sleeves and show that air hockey table that you mean business. Here is how you can clean your air hockey table quickly and easily:
1. Switch your air hockey table's fans on
When you are cleaning your air hockey table, the last thing you want is for the dust and grime to get stuck in your table's air holes. Therefore, let the air flow by keeping the blowers on while cleaning.
2. Grab your vacuum cleaner
You'll be pleased to know that your vacuum isn't just for the floor anymore. So say goodbye to cobwebs, candy wrappers, and dust as you vacuum your table. Also, remember that your vacuum's nozzle shouldn't be touching your table as it can leave undesired marks that can influence gameplay.
3. Give it a good wipe-down
The next step is wiping down your table. Suitable material for giving your air hockey table a gentle wash is a cotton cloth or microfibre.
4. Give the air holes some extra love and attention
The air holes are the divas of your air hockey table, so they need a little TLC. Air hockey table owners have several preferred ways to deal with these tasks, including pipe cleaners, drill bits, cotton swabs, and toothpicks. So pick your poison as you prepare yourself to clean the air holes of your air hockey table.
First, insert your chosen cleaning tool in every single hole in the air holes, properly cleaning them one by one. This might be time-consuming, but it will be worth it when you see the remarkable speed you can get on a puck with an adequately cleaned table. As you clean your air holes, ensure that the fans are still on so that the dirt gets blown out as you clean.
5. Make that baby shine with some polish
A shiny air hockey table is so inviting and begs to be used. There are air hockey masters whose fingers itch so much that they skip this part of the cleaning process to get back into the game. But, although it isn't mandatory, this step helps keep your air hockey table smooth and game-ready.
It would be best if you chose a polish that has been designed for these kinds of tables and used just a little bit of it. If your air hockey table is a wooden one, make that wooden frame stand out by using furniture wax. Lastly, a great final touch is some silicone lubricant that can be sprayed to give your table even more smoothness and shine.
6. Bring your mallets and pucks to the cleaning party
It is natural to look at your air hockey table with a stern eye of disappointment when experiencing frustratingly slow gameplay. However, it isn't always the table that is the spoilsport. Playing with pucks and mallets that haven't been maintained can be just as much of a bummer.
Therefore, use ultra-fine sanding paper to sand your pucks down until they are silky smooth. Yeah baby. That is all there is to get a clean and smooth air hockey table. So remember, the way you play the game might be dirty, but your table never needs to be.
How do I make my air hockey table slide more effectively?
For optimal sliding action, polish your air hockey table. If you are playing on a wooden table, furniture polish will be excellent. However, before you grab the bottle, be aware that you should never spray any form of polish on your air hockey table directly. Instead, it is much better to spray it into a cloth and then use the cloth to give the table a firm wipe.
Prepare yourself to be amazed by the smoothness of your table, as this will result in puck sliding action second to none. Keep in mind that your air hockey table's sides and legs are part of the package, and treat them kindly by polishing them, too.
Can you resurface an air hockey table?
If your air hockey table's surface has become dented or damaged, refuse to lose. There are ways that you can fix this issue and get back to pucking around.
By using clear epoxy, you can fill in any dents or gashes that your table has suffered. Do so slowly and carefully as you want to reach completely levelled surfaces with this method. When the epoxy has hardened, you can step up your levelling game by using ultra-fine sandpaper. However, sand with care as this is an easy way to get scratches on the table.
How often should I clean my hockey table?
This will depend on various factors, including how often you use your air hockey table, your storage method, and the amount of dust you have in the playroom. That being said, most air hockey table owners find that cleaning their tables once a week works to keep their games swift and exciting. If you are cleaning your table this frequently, the benefit is that you don't have to put as much elbow grease into it because a deep clean is hardly ever needed so often.
So get into the habit of giving your air hockey table a nice wipe-down after a nail-biting match or a fun knock-about. Also, consider investing in an air hockey table cover, especially if you have pets. But make sure you know your hockey table's size before your purchase.
Back to the topic. As with most things in life, unclogging is the way to go, so keep your air holes clean and clear by running your fans for a few minutes after using your air hockey table.
Lastly, don't forget to keep your pucks and mallets clean and sanded for a mind-blowing gaming experience.
Should I wax my air hockey table?
Although you don't need to wax your table, it is something that many air hockey enthusiasts do to make their table championship-worthy. By waxing your air hockey table, you not only make it easy on the eye, but you improve its smoothness and durability.
Recommended wax: The Original Bee's Wax Old World Formula Furniture Polish
However, avoid slabbing wax onto your table in large amounts. With wax, a little goes a long way. A heavy hand with wax can result in clogged air holes that will be contrary to what you are hoping for. Therefore, light hands regarding wax lead to swift pucks on the table. So apply a small amount of wax to your table, give it a breather, and then wipe it down with a clean and dry towel. After that, the time has come to kick some air hockey butt.
Conclusion
Every day is the perfect day for a game of air hockey. Therefore, you must keep your table in good condition so that the game is always just a hop away. If possible, cover your air hockey table if you are not using it.
Invest in some good quality polish and a microfibre cloth so that your table looks great and gives you the best gaming quality it can. In addition, keep your pucks and mallets ready for swift motion by sanding them down now and then.
Keep your table air hockey ready with proper maintenance and let the good times flow.
Articles You Might Be Interested In
ContentsHow to Clean Your Air Hockey Table And Maintain It The Right Way?How to Correctly Clean Your Air Hockey Table:
0 comments
ContentsLooking for some practical air hockey tips and strategies?Be PatientAvoid ReboundsPractice Mallet ControlStay On Your SideFocus on DefenseKeep A Good
0 comments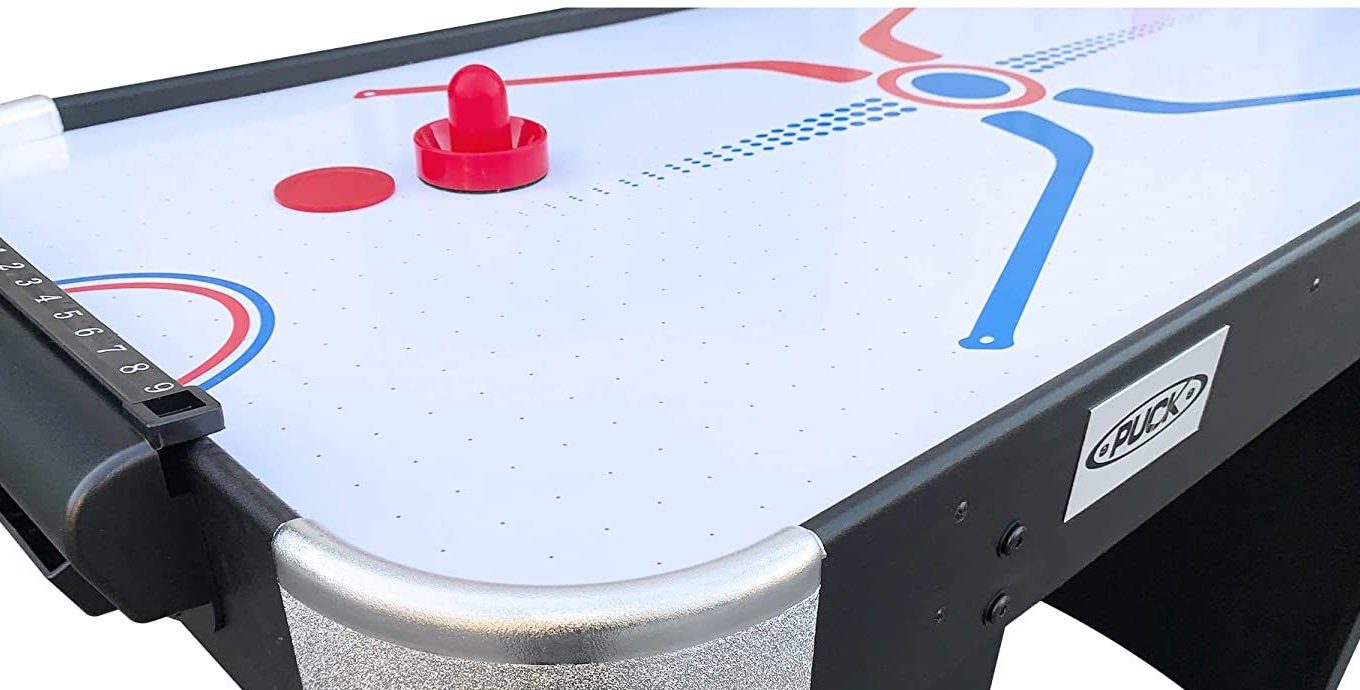 ContentsHow To Play Air HockeyGame On!How To Play Air Hockey Like A Pro? Play By the Rules the Professionals Use!How
0 comments