7 Best Air Hockey Tables For Kids: Reviews And Buying Guide
Air hockey is a classic arcade game that kids of all ages love. If you're in the market for an air hockey table for your home, we've got you covered. In this article, we will discuss seven of the best air hockey tables for kids on the market today. We'll give you a brief overview of each table, and then tell you why we think it's one of the best options out there. So whether you're looking for a budget-friendly option or something a little more high-end, we've got you covered!
Editor's picks: 7 Top Rated Air Hockey Tables For Kids 2022
Tabletop Air Hockey Tables For Kids
Rally and Roar Tabletop Air Hockey Table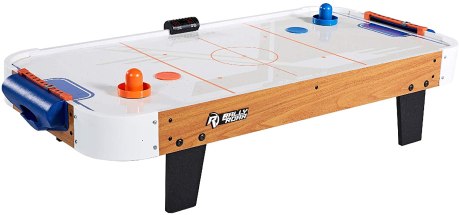 This tabletop air hockey table by Rally and Roar is a great option for kids who are just starting out. It's small and lightweight, making it easy to move around, and it's also very affordable. Small though it is, this kids' tabletop toy comes with both traditional scoring system and electronic scoring board. The air hockey table includes a CUL-certified, AC-12V engine for even air flow and puck fluidity. This air hockey table is made out of dense fiber wood, with strong and padded legs. There's simple assembly required, and the purchase includes 2 pushers and 2 pucks, then all you need to do is plug it in and play!
Pros:
Affordable
Lightweight (Dimensions LxWxH 40 x 20 x 9 inches)
Comes with both traditional and electronic scoring
Premium construction
Modern design
Accessories inlcuded
Cons:
Table is a bit small for older kids or adults
Fan doesn't seem to be consistent
Best Choice Products 40in Portable Tabletop Air Hockey Table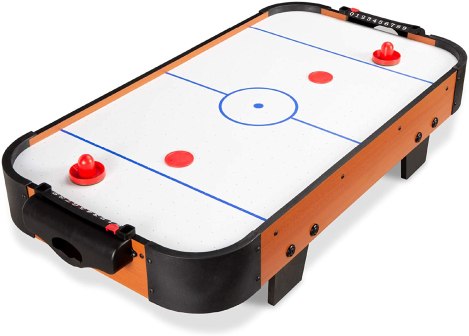 This portable tabletop air hockey table by Best Choice certainly lives up to its name. The table is compact and easy to store away, but it has a lot of fun features kids will love. The motor is very strong and creates a smooth surface for the puck to move across. There are also two scorekeepers on either side of the table, as well as a puck return. The overall dimensions of the table are 40″(L) x 20″(W) x H). Although it is smaller than other air hockey tables, that actually makes it portable and easy for kids to carry around the house or move outside on warm days. They will have a great time playing on this table.
PROS:
Lightweight
Spacious 40" x 20" playing surface
Easy to assemble
2 strikers and 2 pucks included
Cons:
No LED electric scoring system or sound effect
Sport Squad HX40 40 inch Table Top Air Hockey Table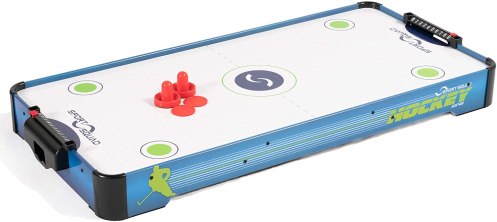 Sport Squad 40in Tabletop Air Hockey Table is a great buy for kids. It is durably made of MDF and offers non-marking rubber pads to protect any surface you choose to play on. This table has traditional sliding abacus scorers and goal boxes with a hockey puck return. Sport Squad HX40 Table Top Air Hockey comes with an AC motor adapter for powerful but quiet, even airflow across its surface. The table weighs 14 pounds, playing field measures 40x20x5 inches, making it easy to move from room to room or store when needed.
Pros
Portable and compact
Assembly is no sweat
Scratch-proof rubber pads
Sturdy
Cons
On/off button seems fragile
NO sound effect
Standalone Air Hockey Tables For Kids
Triumph Fire 'n Ice LED Light-Up 54" Air Hockey Table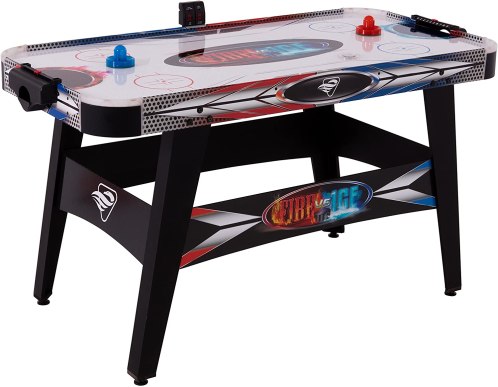 This 4.5 ft kids air hockey table made by Triumph is a somewhat smaller and lighter-weight choice compared to other models. It has vivid Fire vs Ice illustrations, strong legs with cross braces, both LED scoring and sliding abacus scoring. One of the selling points for this kids air hockey table is that when a player scores, lights in each corner fire up and enhance the excitement. In case your kids want to enjoy after-dark fun, this glow in the dark kids air hockey table with a light up puck is sure to be loved by the whole family.
Table dimensions: 54" L x 27" W x 32" H | Product weight: 49 lbs | Assembly required.
Pros:
Durable
Can be used in the dark
Manual scoring and LED scoring
2 LED hockey pushers (one red, one blue) and one LED puck
Cons:
Goals are relatively small
Best Choice Products 58in Mid-Size Air Hockey Table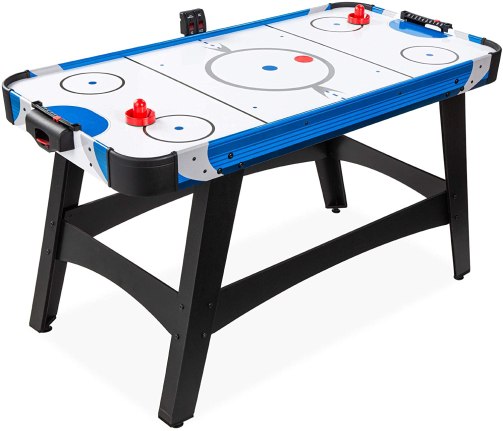 This 58in kids air hockey table by Best Choice was made with a reliable, sturdy and durable construction. It is equipped with crossbar supports, adjustable levelers and reinforced corners for stability. The kids air hockey table consists of a manual scorekeeping system as well as an LED electronic scoreboard to keep count of the points scored by each player. The kids air hockey table comes with two red pucks and pushers as well as a storage bag where all of the accessories can be kept after use so they will not get lost or misplaced. The dimensions for this table are 58″(L) x 27″(W)x 33″(H).
Pros
Sturdy
Reinforced corners
Accessories included
Cons
Assembly can be discouraging
12V motor fan doesn't seem to be powerful enough
Hathaway Hat Trick 4-Ft Air Hockey Table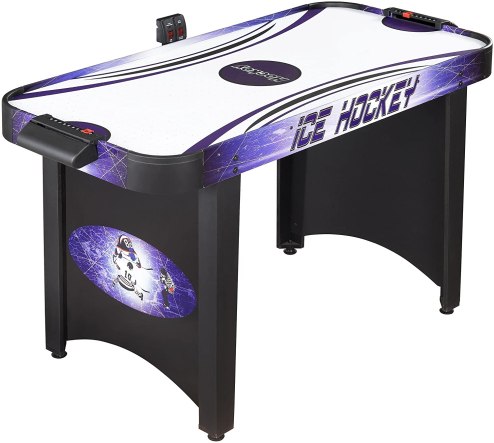 Hathaway Hat Trick 4ft Air Hockey Table is another kids air hockey table under $200. This table measures 54in x 24in x 31in. It is made of engineered wood with reinforced supports that make table stay steady and sturdy. This table comes with both electronic scoring system and manual abacus scoring. There is an electric motor that provides constant airflow across the table, which make puck and pusher movements smooth across the surface.
One downside to this model is that the numbers on abacus scoring bar are upside down, which doesn't make sense to me anyway. Quite often customers report that the fan seems to be problematic. I do wish the fan could be more durable, for this table has pretty good build.
Pros:
Includes 2 strikers and 2 pucks
Leg levelers included
Sturdy construction
Cons
Fan may be weak and not lasting
PUCK Pegasus 5.5-Foot Air Hockey Table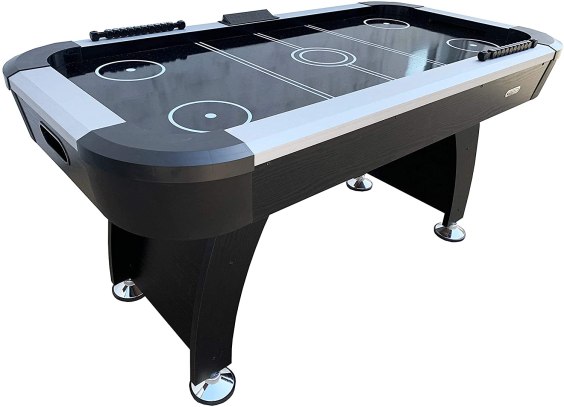 If you have a little more budget and more space, you don't want to miss this 5.5ft air hockey table made by PUCK. This table comes in a sleek black and grey color combination with silver details. With its heavy duty design, this tables weighs strikingly lightweight - 110 lbs. PUCK Pegasus has both manual and electronic scoring systems. This table is not only perfect for kids, teenagers and even adults can have a great time playing with friends or family members.
This air hockey table has a size of 66" x 36" x 32". It's not the smallest but it should fit in most family's game rooms. The PUCK Pegasus also comes with an accessories kit of 4 strikers and 4 pucks plus a carrying bag. The PUCK Pegasus was designed for the serious air hockey players, but if you want to get the best value for your money, do check out this table.
Pros:
Sturdy and heavy duty
Sufficient accessories and a table cover included
Rubber-padded legs
Life time warranty
Excellent customer service
Cons:
Price is in the 500's.
Larger than most kids' air hockey tables
What are the things to consider when buying kids' air hockey table?
When buying an air hockey table for kids, it is important that you do some market research and take into consideration of your kids' age, the space, the table's material, etc. before your purchase. In this section, we will talk about some key factors that you should consider before buying a kids air hockey table.
The ages of kids
The age of kids is probably the first factor to look for when buying an kids' air hockey table. Every kid's air hockey table has its own suggested age range which should fit your kids' ages at best before making a purchase. While most manufacturers usually take into account both kids' safety and abilities while playing the game, it is still important that you double-check this information to make sure that your kids will be able to play safely on their own.
Table size
The size of kids' air hockey table is also an important factor to consider before making a purchase. Air hockey tables for kids come in different sizes, but as a general rule, you should get a kids' air hockey table that is about the same size as your kids. This way, they won't feel overwhelmed by the table and will have more fun playing on it.
Space
Now that you have a rough idea in mind how big of an air hockey table you want to buy for your kids, do you have enough room for it? In our Air Hockey Table Buying Guide, we cover general rules on how to choose an air hockey table for adults. But some of it is applicable when it comes to kids' hockey table. Make sure you leave enough room on both ends of the table for both players if it's set to stay in that area permanently.
Table Material
The material of kids' air hockey tables also matters when making a purchase. Tables made from cheaper materials such as plastic usually won't last as long and kids can easily get hurt while playing on them. For kids' air hockey table, you want to make sure that they are made from at least engineered wood, MDF or dense fiberboard. These materials will not only withstand kids' abuse but also help prevent kids getting injured when playing the game.
Strong support
Whether you decided to buy a tabletop air hockey table or a standalone table, make sure they have sturdy legs to endure kids' abusive playing. Preferable material for legs would be metal or dense fiberwood with reasonable designs to distribute the weight evenly.
Fan Power
This is unfortunately many many tables' weakness. A powerful motor and a smooth play surface is what gives air hockey the thrills of speed and actions. With a failing fan, a hockey table is just a table, unplayable. Consider reaching out to the manufacturer before (or after) your purchase and see if they're willing to provide parts and support if you want to be extra careful.
Rink Markings
Not many people talk about this. But air hockey rink markings are somewhat important. Not only do they guide kids during the game, it also helps with table calibration for more accurate shots. If your kids are serious about playing air hockey, you might want to look into tables that have pre-printed rink markings on them.
Price
Last but not least, price is always an important factor when making a purchase, especially for kids' toys. Kids air hockey tables can vary greatly in terms of price, but as always, you get what you pay for. Make sure to do your research and find the best table that suits your needs without breaking the bank.
Final thoughts
In conclusion, when buying an kids air hockey table, make sure to take into account the kids' ages, table size, space availability, material of the table, strength of the legs and fan power. By considering these factors, you'll be able to find the perfect air hockey table for your kids that will provide them hours of fun and excitement.
And there you have it! Our hand-picked best air hockey tables for kids, and a buying guide on what to look for when choosing kids' air hockey table. We hope you found this article helpful and informative.