Atomic Air Hockey Tables Review
Atomic Air Hockey Tables Review
Atomic is a well-known maker and distributor of high-quality indoor gaming tables and outdoor sports equipments. Now their product range also includes filters for pool and air-cons.
In the world of sports tables, this manufacturer produces tables with modern features and includes foosball, shuffleboard, and air hockey games as well as other arcade games and supplies.
Atomic's arcade air hockey tables are quite popular among gamers and adults, and they come in a variety of styles and designs.
Unfortunately at the moment on the market there are only a few designs of Atomic Air Hockey Tables available. In this article, we listed and reviewed the ones that are still in stock.
Atomic 7.5 ft TOP SHELF LED Light UP Air Hockey Table
The Atomic Top Shelf 7.5′ Air Hockey Table is robust, with leg levelers to keep the game balanced. This classic arcade-style table is powered by a 120V motor with moderate airflow. The flat, glossy 82″ L x 41″ W surface is constructed of PVC laminated laminated MDF for high-speed gaming.
Wanna play in the dark? The LED Lumen-X technology illuminates the table with red, green, and blue multicolor light effects while listening to fast music for added intensity. The table's sound effects enhance the game's intensity as it goes. The table's lightning changes color after each goal is scored, adding to the excitement of the game.
The table is sturdy and a great indoor gaming table for this price range, but the wood quality is not as good as we expect and may not survive long under violent gameplay or undesirable weather condition. One red and one blue LED pusher, 2 traditional pucks, and 1 hexagonal spinner LED puck which creates challenging, unpredictable rebounds are included in this table.
Overall, the Atomic 7.5 ft Top Shelf Air Hockey Table is a nice addition to any room, and it's a good value for the money. This table and INDOGLO below also made to our Best Air Hockey Tables curation.
Pros:
 Not so strong airflow
 Slick play surface
 LED lights on strikers and pucks (can be turned off)
 Pretty Cool sound effects
Cons:
 MDF Wood quality is not as good
Atomic 7.5 ft INDIGLO LED Light UP Air Hockey Table
The Atomic 7.5′ INDIGLO Air Powered Hockey Table is a beautiful, fully lighted table with a modern style that is ideal for any occasions. It's also very robust and durable, making it ideal for use when hosting parties or other events. The table is made of high-quality materials and has a very powerful air blower and polycoat sealed top play surface. The blue LED exterior legs are beautifully manufactured.
The Indiglo table comes with an electronic scorer with goal sensors. But few customers have reported that the alignment isn't so well and that the sensors could play up a little bit sometimes. However majority of the time when it's performing properly the tracking is great. The audio effects also enhance the game's appeal.
The table is illuminated with indigo lights on each side, giving it a lovely glow in the dark. It also comes with 2 LED strikers and 2 LED pucks so you may keep playing even if the lights go out.
Overall, it's a good investment with no major flaws on the table itself.
Pros
 Electronic scoring system
 Solid table
 Strong air blow
 Modern design with beautiful illumination
 Sound effects
Cons
Atomic Blazer 7' Air Hockey Table
The Atomic Blazer 7′ Air Hockey Table is a mid-range purchasing choice but still durable enough if taken care of. The built material is plastics and MDF, and unfortunately there is a dead zone in front of the scorekeeping system. Measuring 84″ L x 48″ W x 32″ H, the table seems circa medium quality since the surface might start chipping due to frequent gameplay. However, any table will show a bit of wear and tear after usage. It was fairly simple to assemble.
It has a 120V blower and efficient airflow, which allows for smooth gaming. The overhang rails reduce puck bounce. The score tracking mechanism is okay and basic, and you'll need 4 AA batteries for it to function.
The goal sensors may register a goal even if a puck barely brushes by them, so scorekeeping might be inaccurate. Leg levelers on the table are to maintain the balance of the table. It also includes 4 pucks and 4 strikers.
Overall, it's an average table with a questionable lifespan if not stored under controlled-temperature. But if maintained properly, it could still be a reasonable buy for this price range.
Pros:
 120V air blower
 Basic accessories are included
Cons:
 Wood material may be low-quality
 Electronic scoring system not so accurate
What Other Models Of Air Hockey Tables Did Atomic Make?
Here we also include a list of all Atomic Air Hockey Tables just for your reference, but please note they are not available on major sales channel such as Amazon or Walmart. (Who knows? You might get lucky and find one on eBay or Craig list.)
We don't know if they will continue the production lines or when they will become available at all.
Final Thoughts
To summarize, Atomic has a wide range of air hockey tables but only a few of them are available. They all have their own set of characteristics, but it's best to conduct a little bit of research before purchasing your preferred table.
Although some may have damages(upon arrival) or technical problems, many find the tables provide excellent value for money.
ContentsAtomic Air Hockey Tables ReviewAtomic 7.5 ft TOP SHELF LED Light UP Air Hockey TableAtomic 7.5 ft INDIGLO LED Light
0 comments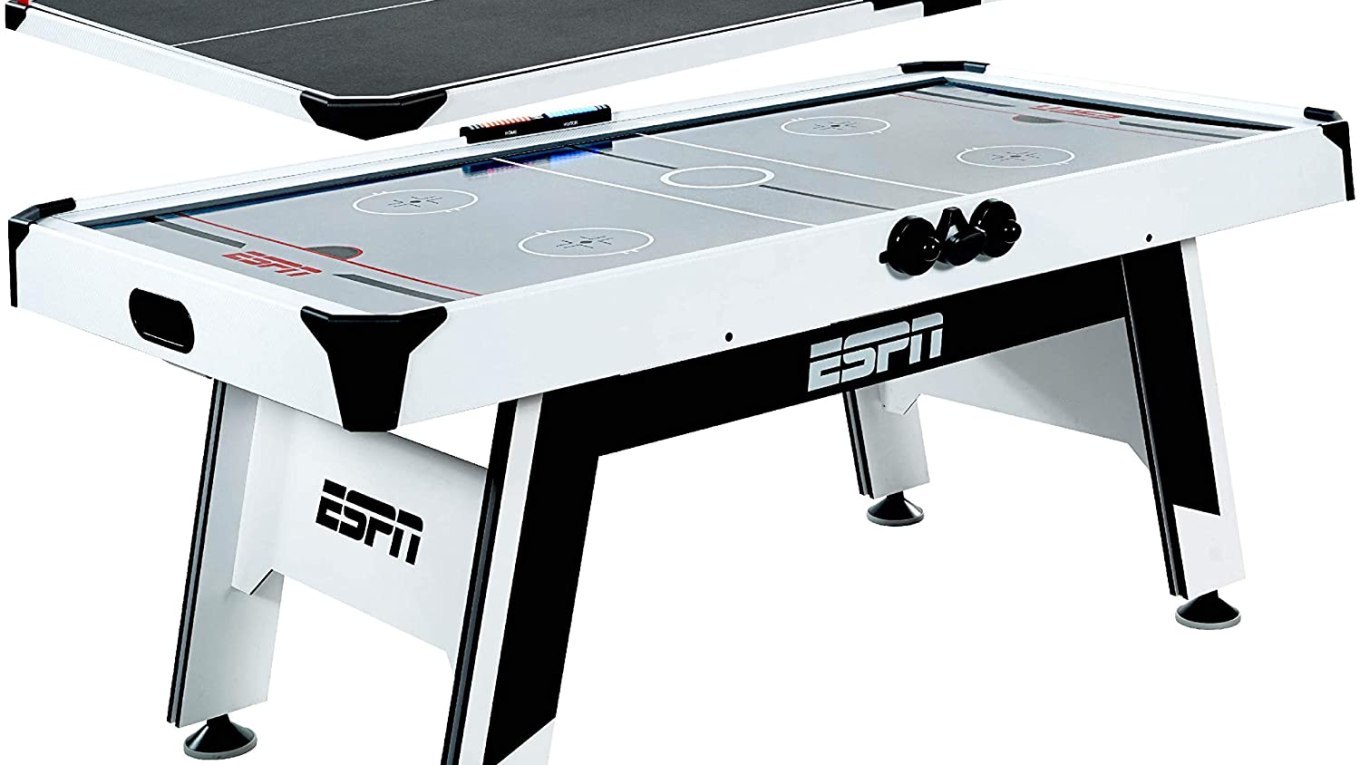 Today, we are going to look at ESPN Air Hockey Tables. The models covered in this article are three different
0 comments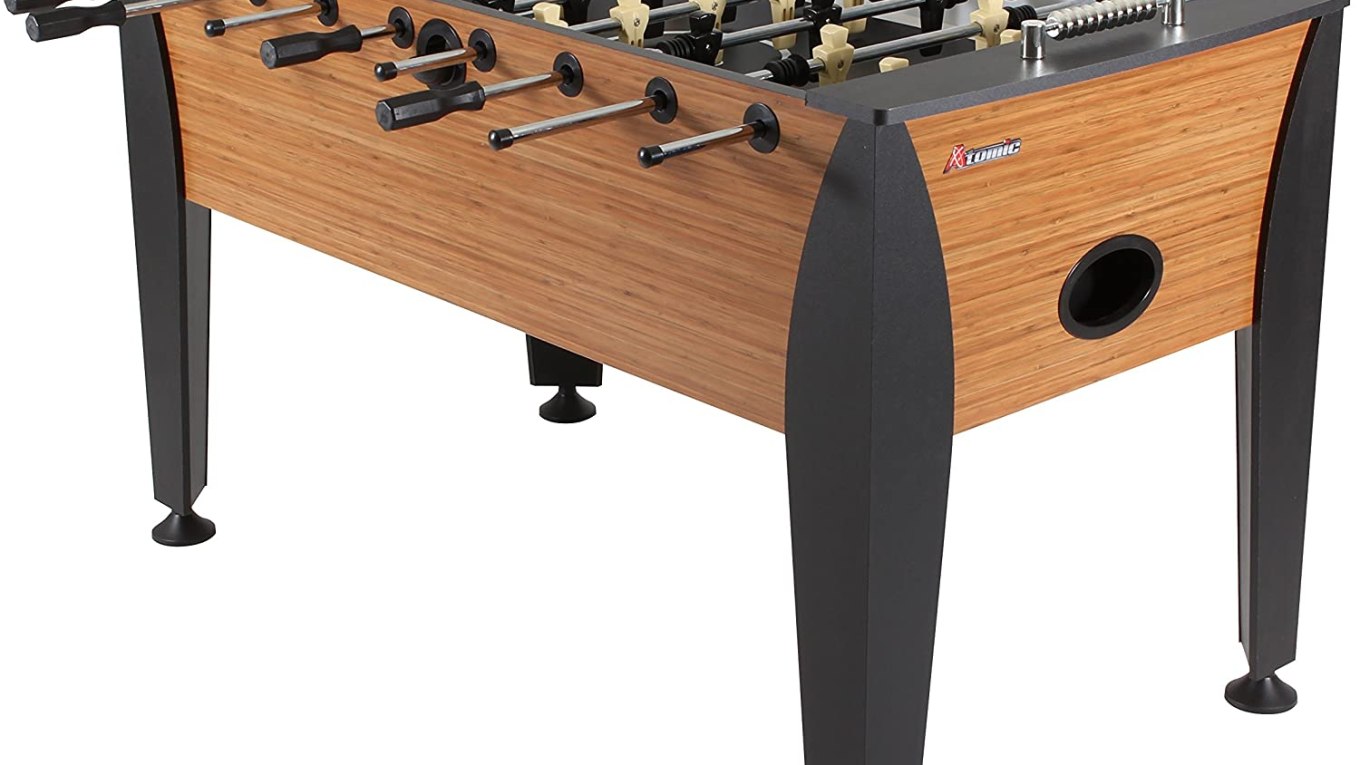 Atomic Pro Force 56″ Foosball Table is an active game table with a heavy duty frame and legs. The internal
0 comments