Atomic Pro Force 56″ Foosball Table Review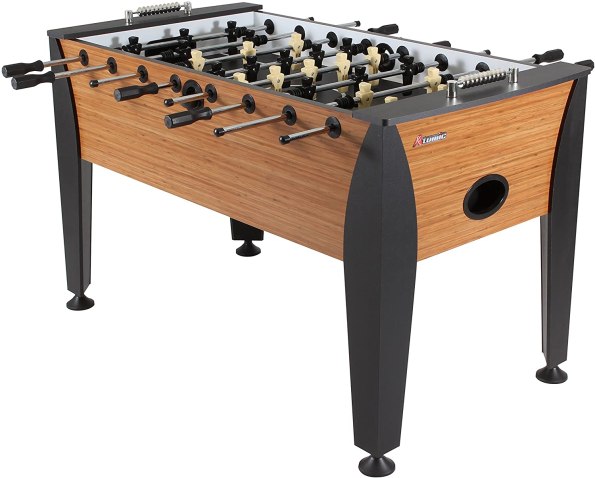 Atomic Pro Force 56″ Foosball Table is an active game table with a heavy duty frame and legs. The internal ball return allows for continuous play and the ball entry at both sides of the table allows for fast game play. This foosball table has 3.5 leg levelers to ensure even playing field on all surfaces.
The dimensions (LxWxH) for this table are 55 x 30.5 x 6.5 inches. 4 balls are included in the purchase to start your game in no time.
Appearance-wise, Atomic Pro Force 56 in. Foosball Table is a sleek and stylish game that would fit right into any professional office or home entertainment space with its durable MDF table featuring rich bamboo laminate finish! This modern foosball tables comes equipped for players of all skill levels thanks to an easy manual scoring feature plus comfortable rubber octagonal handles on each rod length.
Some details that I don't like about this table is that quite often the pre-drilled holes did not lineup, which could result in uneven playsurface and the whole table could be subject to warping prematurely. Assembly difficulty can be very frustrating and deflating, been there, done that. Also this table doesn't have cup holders, which might be disappointing for some people. But on the other hand, it could mean less mess to clean up in case of spillage.
Overall, Atomic Pro Force 56 in. Foosball Table is not the best value for money to be completely honest. But if you are looking for a good table at an affordable price point this could be an option.
Pros: Durable, Solid Design, Fast Game Play.
Cons: Difficult to Assemble.
Thank you for reading this article.