ESPN Air Hockey Tables Review
Today, we are going to look at ESPN Air Hockey Tables. The models covered in this article are three different sizes: 5 ft, 6 ft and 7 ft. Despite the various sizes, they all follow the same distinguishable design style. You can also see it in our Best Air Hockey Tables curation.
The first time I saw one of these tables (older model) was in a game room at my friend's house when I was about 12 years old. We gathered around while his older sister struggled to put the table together, and she seemed to get more frustrated with each passing minute. Finally, after two or three hours, the table was finally built, and it looked amazing. Til today it's one of the coolest table I have ever seen.
Back to out topic today.
ESPN 5 ft. Air Hockey Table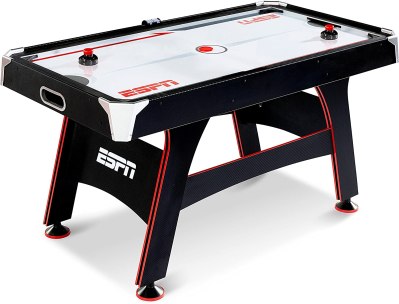 Firstly, let's look at the ESPN 5 ft Air Hockey Table. It is a compact designed table, featuring built-in premium blower fan, 3/4 inch thick, high gloss magnetic playfield and reinforced playfield aprons for stability with enormous leg levelers. Dimensions for ESPN 5 ft Air Hockey Tables are 64.75 x 37.13 x 6 inches.
In addition, the state-of the art upgrades on this ESPN Air Powered Hockey Table include an LED electronic scorer, integrated sound effects and push button controls. There are two power outlets: one for the air and one for the "game system/sound." (I mean, why??)
The game's controls are limited. It can be switched on/off or restarted. Sound is either on or off. There are three game modes: 3 minutes, 5 minutes, and 7 minutes. The time-limited mode can be a nuisance because you're playing at home, not in the arcade with people lining up behind you.
Overall it is okay for the occasional game for kids, but it does not quite compare to the real thing. Quality-wise, it is just the right value for your money.
ESPN 6 ft. Air Hockey Table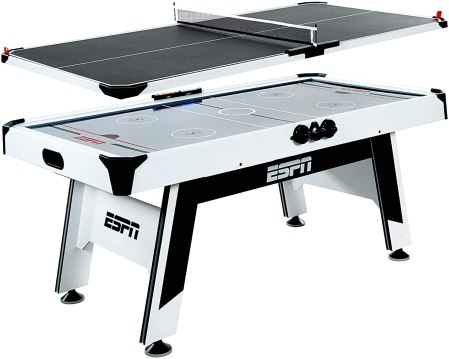 The ESPN 6 ft Air Hockey Table is a table tennis converter. Dimensions for this table is 72 x 37 x 32 inches. This table also provides an arcade experience with its sophisticated LED scoring system, integrated sound effects, and push button controls. The whole set transforms into a table tennis match in a matter of seconds.
With a PVC finished playfield and a thickness of 1/2″ this top provides excellent bounce and a smooth surface. The 5-piece conversion top kit for hockey tables includes a 4" leg leveler table, a tennis top, 2 pushers, 3 pucks, 2 balls, and 2 posts.
However, the fan is just not good enough, a bit insufficient as an air hockey table despite the brilliant features it has. It works well as a small ping pong table though.
ESPN 7 ft. Air Hockey Table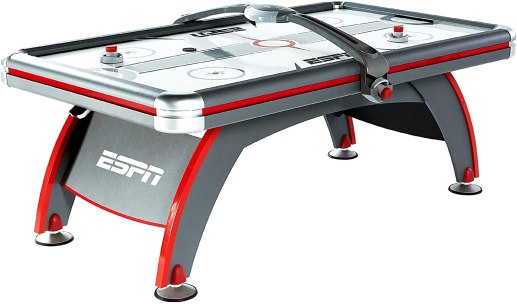 The 7-foot Air Hockey Table from ESPN comes with a built-in premium blower fan to ensure an even flow of air across the 3/4″ thick, high-gloss playfield, allowing the puck to glide easily right over it. The dimensions for the 7 ft table are 84 x 48 x 32 inches. This Air Hockey Table features an LED electronic overhead score keeper that hovers over the table and includes arcade sound effects, a game timer, and projection lights. Two cup holders are also integrated on each side of the scorer's overhead. Storing air hockey equipment is also a breeze, with built-in storage for the puck and pushers on each side of the table.
A full-panel 1/2 inch thick leg foundation, a strengthened playfield apron and top rail, protective corner caps, and oversized 6 inch leg levelers for stability are all included in this 7 foot hockey table. 4 pushers and 4 pucks are included in the table set.
What we like about this series of tables:
They are designed with users in mind. From the easy to understand instructions, durable components and overall modern and clean design, it's hard not to appreciate ESPN Air Hockey Tables. They also have 90days limited warranty. The mainframe, which arrived in pre-assembled form, simply needs to be set up with the legs, supporters, and fan.
What we don't like about them:
The pucks included are about 2 1/2 inch in diameter, not the best quality, and surely not the most suitable size for the tables (should be 4 inch in diameter). You will probably need to buy some heavier pucks, which is an easy fix.
Although the playfield is smooth, the fan doesn't always give enough air flow. That's definitely something ESPN can make improvement onto.
Final Thoughts
Overall, ESPN Air Hockey Tables are a good deal for the price you pay.For the playability - it's a solid choice for an air hockey table. I definitely recommend them. Make sure you take measurement of your space, and room for players needs to be taken into consideration as well.
Hope this is helpful!