Summer Fun: Best Outdoor Foosball Tables (2018 – 2019)
With the weather starting to warm up out there, it's time to start thinking about taking the fun of foosball outside. Instead of sitting on the patio when friends are over, or playing a boring game of horseshoes when you're having a cookout with the family, take things to the next level with a good outdoor foosball table.
Like the indoor models, there are lots of great outdoor foosball tables on the market at a variety of different prices. Based on our research, you should be able to find one to meet pretty much any budget. So, don't think you can't afford it because we've managed to find some very affordable options for you.
Below we share our favorite choices for the best outdoor foosball table for the money.
Top 7 Outdoor Foosball Tables - Our Favorites
images below courtesy of Wayfair and Jet.com
IMAGE
DETAILS
Garlando G-500 Weatherproof Outdoor Foosball Table
Buy at: Amazon, Wayfair, Jet.com
Kettler Weatherproof Indoor/Outdoor Foosball/Soccer Game Table
Buy at: Amazon, Wayfair, Jet.com
Garlando Open Air Foosball Table
Buy at: Amazon, Wayfair, Jet.com
Rene Pierre Outdoor Foosball Table with 1-Man Goalie - Bora Bora
Buy at: Amazon, Jet.com
Rene Pierre Outdoor Foosball Table - Tahiti
Buy at: Amazon, Jet.com
Garlando G2000 Weatherproof Football Table
Buy at: Amazon, Wayfair
Kettler Montecristo Outdoor Foosball Table
Buy at: Amazon
Where To Buy
If you're not sure where you should shop for one of these, then let us help you out. We do suggest that you shop online since these things are heavy and you don't want to have to transport it yourself. Instead, shop with an online retailer who will bring it right to your door for you with free shipping. Below are the places where we've found the best selection at affordable prices.
Before you buy, confirm the shipping policy with the online retailer. Not all sites offer free shipping, and the shipping cost you see on the retailer website reflects the correct shipping expense.
What To Consider
Before selecting a table for your patio or yard, do take a moment to consider if it is the right choice for your needs. We've come up a with few considerations for you to think about before making that purchase.
Does it come with a weatherproof cover? If not, you need to purchase one separately. Though outdoor tables do have protective coatings against exposure to weather and the sun UV rays, you still want to keep it covered when not in use. This will help it last even longer. Plus, you don't want to go out to play and have to remove a bunch of debris from the playing surface, or worse, bird poop!
What's it made of? Some materials last longer in the outside elements than others, so be sure to check out what your preferred tables are made out of. And if you're trying to decide between two models, then use this to make your final decision by choosing the more durable model.
How's the overall quality? Just like with an indoor model, the overall quality and features can vary from one model to the next. Some of the features that you'll want to look for include:
leg levelers
high stress rods
unbreakable players
3-man or 1-man goalie setup
sloped corner and side rails to keep ball always in play
glass table surface vs laminate surface
You also want to consider other things like the price and your available space. One thing that you'll want to remember as you shop is that the outdoor models tend to have a slightly higher price tag than your standard indoor models.
So, do expect to pay a little more for one of these than the regular ones. Of course, prices and discounts change all the time, so if you shop around and compare prices, you just might end up with a good deal at a cheap price!
And remember, the great thing about one of these is that they can be moved in the house once the weather starts to cool off, so if you don't yet have one inside your home, then this is great excuse to buy! And if you've been trying to get the kids to play outside but they don't want to ride bikes or play some basketball, this might be just what it takes to get them out of the house.
Kettler Cavalier Weatherproof Indoor/Outdoor Foosball Table Review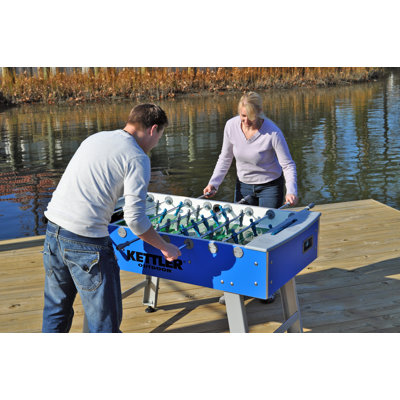 If you're in the market for the best of the best, then we definitely recommend this model from Kettler. If you're not familiar with this brand, it's because they are mostly known for their high quality ping pong tables. But they also made great foosball tables!
Headquartered in Italy, when you buy one of these you get that well-known fine Italian craftsmanship. This means you can expect your Kettler table to last for several years because it is very durable and high quality.
The weather resistant resin on the cabinet keeps it looking sharp for years to come, no matter what kind of weather you leave it sitting out in outdoors. The legs are made of a durable steel, so you don't have to worry about a strong wind carrying it away! It also has some built-in leg levelers, which means that you can set it up on the ground and not have to worry about the lawn not being level cause those built in levelers will take care of it for you.
The playing rods have a chromium plating that is anti-rust, for when it rains on the surface. Fortunately, you don't have to test out how rust-proof that coating is cause this model comes with a cover to protect it when not in use. And the playing men are molded to the rods and made of unbreakable plastic.
This is actually our favorite of all the outdoor foosball tables  on the market because it is the perfect intersection of high quality and affordability, and Shawn at Improve Summer agrees. With this Kettler table, you get very high quality at an affordable price. That's why this is our #1 recommended table for all your outside foosballing needs.
top image via Wayfair